TMUH Aesthetic Medical Center
REQUEST APPOINTMENT
Please call : (02)6636-7135, (02)2737181 ext. 8215.
Or email us at: tmuhbeauty@h.tmu.edu.tw
Service hours: Mon 9:00~17:00, Tue 9:00~17:00, Wednesday 9:00~21:00, Thursday 9:00~21:00, Friday 9:00~17:00, Saturday: 9:00~12:00
Location:
(110) No 252, Wu-Xing Street, Xinyi District, Taipei.
Taipei Medical University Hospital, 3rd Medical Building, 2nd Floor, Dermatology Department.
Upon arrival, please come to the front desk which is located on the right side after entering the dermatology department.
Treatment results may vary among different patients according to their skin conditions.
There may be side effects after cosmetic procedures, please discuss with your doctor in consultation, and follow aftercare instructions.
Currently for Covid-19 Coronovirus prevention :
(1) Everyone needs to wear mask to enter our medical buildings, and there will be body temperature screening.
(2) Patients who have have entered Taiwan via international flights, or who may have contacted people who may have been infected with Wuhan coronovirus need to wait 21 days symptomless before coming to the cosmetic clinic. Patients who are having fever or cough will need to wait until symptoms relieved to come to the cosmetic clinic.
(3) Thanks for your cooperation. TMUH Aesthetic Medical Center reinforce sterilization over our environment.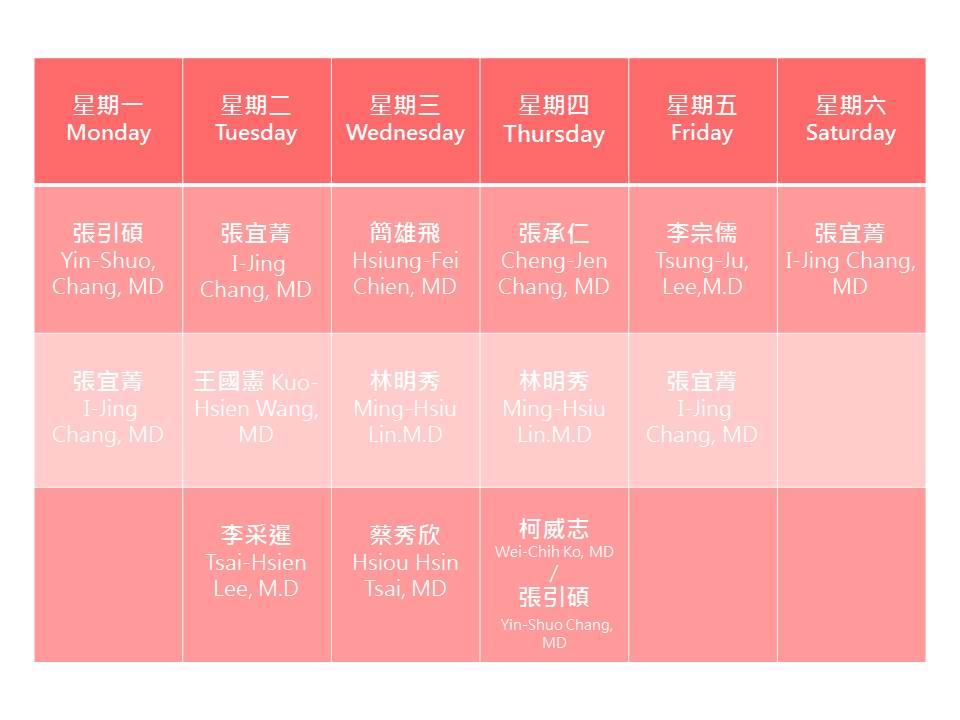 SERVICES & PROCEDURES
Laser & Lights:

Fraxel by Solta, Nordlys (IPL), Gentlelase by Candela, VBeam,  Fractionated CO2 laser, Miradry,  Ruby laser, Ultrashape,Erbium:YAG.

For pigmentation (brown spots), Scars, Laser hair removal, Wrinkles, Birth marks, Hemangiomas, Tattoo removal, Acne , Blemishings, Rosacea (Facial redness and broken vessels), Hyperhidrosis (Under arm sweating), Non-invasive body contouring
Non-invasive Lifting & Tightening:

Ultherapy, Thermage CPT
Cosmetic Injectables:

Restylane & Juvederm, BOTOX, Radiesse, Sculptra, Lipotransfer
For Facial folds and creases, Hollows in the cheeks, undereyes and temples, Thin or flat lips, Disproportional nasal shape, Crow's feet,
Dark circles/  Teartroughs, Eye wrinkles, Bunny lines, Nose wrinkles, Neck bands,  Mouth wrinkles
Surgeries & more: Liposuction, Ear Piercing, Bromohidrosis surgery, Eyelid Surgery, Eye Bag Surgery
Our dermatologists and plastic surgeons:  https://tmuh-beauty.com/doctor/
CONTACT US
To schedule a consultation or cosmetic procedure: Please call : (02)6636-7135, (02)2737181 ext. 8215.
Or email us at:tmuhbeauty@h.tmu.edu.tw
Service hours: Mon 9:00~17:00, Tue 9:00~17:00, Wednesday 9:00~21:00, Thursday 9:00~21:00, Friday 9:00~17:00, Saturday: 9:00~12:00
Location: (110) No 252, Wu-Xing Street, Xinyi District, Taipei.1111
Taipei Medical University Hospital, 3rd Medical Building, 2nd Floor, Dermatology Department.
English website of  Taipei Medical University Hospital
Premium, Professional, and Classy, All At  TMUH Aesthetic Medical Center.
Located at Taipei's prestigious international Xinyi 101 district, TMUH Cosmetic Clinic is aimed at providing patients "Healthy & Natural Beauty." We are proud to assist not only the Asian community but also those from around the world, such as the US, Canada, and Europe, to regain glowing healthy skin.
Our center is comprised of professional dermatologists with international training experiences in the cosmetic medicine realm. We also have state of the art medical devices & techniques in laser & lights, non-surgical lifting, and is adamant in providing high quality cosmetic injectables imported from Europe & the US. We are widely recognized for our outstanding results for treating brown spots & scars,  wrinkles & skin laxity, facial & body sculpturing, and hair removal. In addition, our plastic surgeon team also provide great medical attention specifically for liposuction,breast reconstruction、eyelids & face lift surgeries. To provide an even more well rounded care, we have also developed a series of medical SPA treatments focusing on skin hydration & whitening,anti-aging & acne treatments.
Rest assured that the moment you are ready to refine your beauty, our professional team will listen carefully to your needs, and arrange a custom made aesthetic plan accordingly. The minute you step inside our center, our caring beauticians will work closely with our physicians,  guide you through the entire process, and provide the last touch of gentle care before you go. TMUH Aesthetic Medical Center strives to provide you an elegant environment, so you can relax and feel just like home.
Before and Afters of  Filler (Restylane/ Voluma

) i

njection for the dark circles and lifting cheeks:
Before and Afters of
Fraxel on acne scar revision:

Before and Afters of
IPL on brown spots :